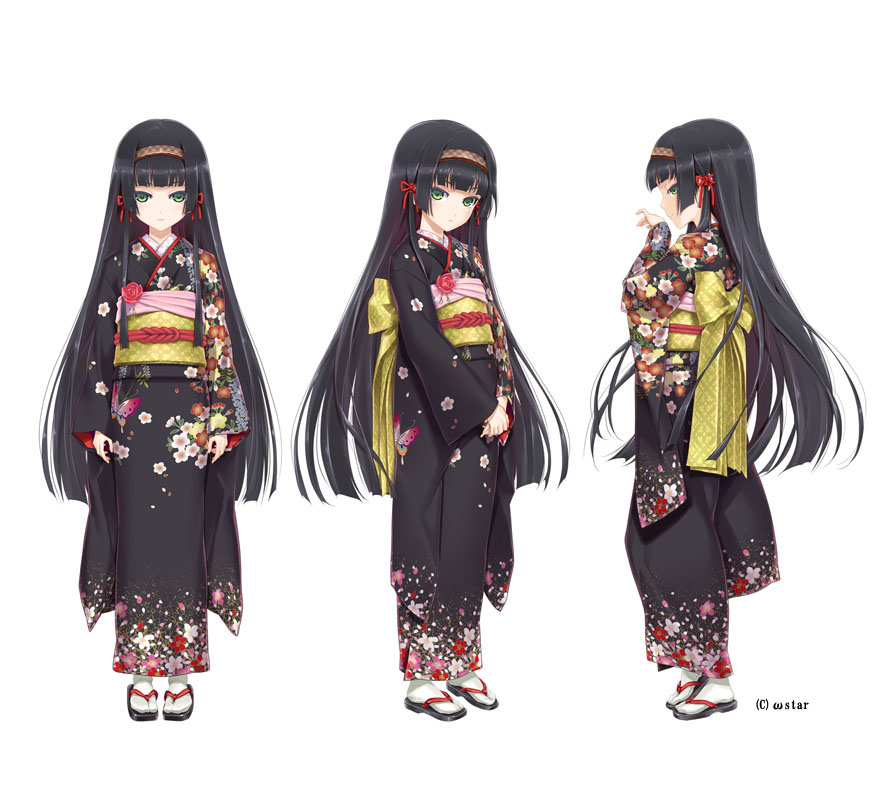 Name:
Nanao Kimie Natsumi Kichi Egami
Nickname:
Nana/Nanao/Kimmi/Natsu/Kichi/Kiki/Kikki
Age:
8
Gender:
Female
Height:
four foot
Weight:
forty pounds
Appearance:
Nanao stands at a height of four foot. This is quite tall for the eight year old. Add to this she only weighs around forty pounds, she's rather lean. Her body is thin and almost, stick like but somehow she manages to look relatively normal. Because she's so young, she has no real chest to speak of. Nanao's skin is a light shade of peach making her a little less than a normal Caucasian individual. With these features in mind, she bears extremely long well groomed black hair that reaches to below her posterior. Her clothing is a standard feudal Kimono made of a silken substance. Below this she wears a custom made combat outfit made of red leather straps.
The Kimono is black in color with gentle designs of sakura leaves as well as pink flowers. This is held together by a large Obi wrapped around her midriff. This allows her to look prim and proper, but it was also designed to allow for combative movement. On her feet she wears white Tabi with sandals made of black and red. Her eyes, are a gentle green color as well.
Village:
Suna
Character Rank:
D/Gennin
Clan:
TBA
Element:
None
Personality:
Nanao has several different parts to her personality. At first interaction she seems cold almost. Though this isn't entirely true. Being from the Egami clan, she was born with the teachings of forcing her emotions behind her face, almost like a mask. Her main job as Egami is to watch, and not interfere. As such, she holds her values to the highest esteem. However, she doesn't always listen to that. She tends to try and get involved when she feels the need to. The Watchers aren't always best allowed to watch. Case in point, the Ryujin incident. When Ryujin was heard to have gone rogue, Nanao wanted to do nothing but record Suna's own actions on this situation. But as the words came creeping in that war seemed to loom on the horizon, Nanao was less of a pacifist.
Generally, she tends to stay out of the way and simply watch. However, she also wishes to become strong, learning from the ways that the Suna Ninja teach by. This both furthers her job AND her aspirations of helping. But hidden deep away is a sinister child that wishes to watch the world burn. Why? Well, in honesty it's not watch the world burn but she thinks of life as a game. This is simply because she's too young to understand that it's not exatly so. She can be serious, manipulative, and demonic if need be. Much like a Watcher though, she knows when to simply stand idly by, and gaze upon history. She's often a good semaritan however, when it's not in a "set Event" scenario. The Egami know when "set events" happen and as such, they will refuse to take part. Case in point, the Ansho Clan.
Character History:
Nanao was born to two Egami clan members. Both of which were in charge of watch Suna's growth. First and foremost, her mother, was tasked with watching Horus Ansho, the newest clan head of the Ansho. Her father, however, was tasked with watching Suna specifically. As time rolled on, the two were permitted to have a child. Their daughter, Nanao Egami, was tasked with participating in Shinobi training to gather information on how the Suna ninja train their students.
After having passed this, she was then allowed to enter into Gennin rank. As of now, her sole Egami purpose is to reach Jounin level and perhaps beyond. But she is, in no way, allowed to alter the course of events. Nanao's own feelings differ on the matter, but she remains strong in the wish to follow through with her mission.
Eventually she was gifted with being apart of a team under the teaching of Saya. She is a notable woman with exquisite combative skills. It is this skill, likeness, and her overall personality, that has gotten Nanao interesting in emulating her. It's this woman, that she hopes will stay her teacher and prove to the Egami that sometimes, the watchers must step in and do something.