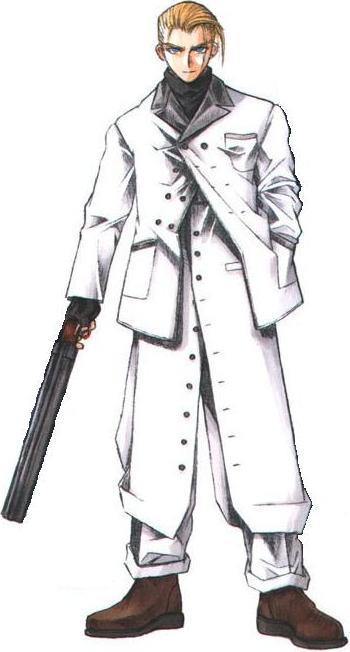 Name:
Voltaire Hayashi
Nickname:
Boss
Age:
22
Gender:
Male
Height:
5'9"
Weight:
157 lb
Appearance:
Voltaire Hayashi is a rather young man, especially for an individual who has already reached the rank of Jounin, but in many ways has aged past the twenty eight years for which he has actually been around on this Earth. He is very thankful for his platinum blonde hair already being so close to white, because it so often is useful for hiding the fact that parts of it are already starting to go grey on him from all of the pressure that he has invited into his life so openly and without regret. Though he uses various products to fight this, his bright blue eyes are still bordered by lines, dark circles, and crows' feet that he just cannot combat with modern medicine without the help of a medical shinobi, but how could he ask for such help?
Apart from the obvious age on his face, Voltaire has a body that is still very  young in appearance. Though his every joint already cracks like that of an older man due to having gone through all of the impact and injuries of a man up to five times his age, everything looked like it was in perfect shape. His muscle tone was what one may refer to as being, "cut." That of course, was more of a happy accident that occurred from his physical training than it was the main objective of it. As a result of his great skills and particular fighting styles he had scars only on his hands, where they just blended in with the various lines and creases that already existed on those particular extremities. Had he gotten any scars on any other part of his body they would have been excessively obvious. Most scar tissue comes to an almost silver color and his body is always very tan from all of the time spent in the hot sun of Sunagakure no Sato.
The heat also was the driving factor in his decision to dress in mostly white at all times, even when in doors. This had to be done because he dressed in several layers in spite of the heat. The reflective color was necessary because of the weight of the fabric alone being more than enough to cause somebody doing even the most basic of physical labor fall dead from a heat stroke.
Village:
Suna
Character Rank:
A/Jounin
Clan:
N/A
Element:
N/A
Personality:
The personality of Voltaire Hayashi is what some would call unfortunate. Some of those less than pleasant qualities for which he is well known include: being extremely bossy, having an uncontrollable urge to control everything and everybody around him at all times, lashing out in aggression or even violence when he feels that that control has been in some way taken from him without his permission or notice, arrogance in the face of even his own flaws, and an inexplicable disgust that shows as clear as day on his tanned face for those who openly oppose him. Many have suggested that he had the air of a vicious dictator. It would not be a far stretch to call those suggestions the honest truth.
He fancies himself as a man who is capable of always keeping calm, no matter the situation at hand, but this is not the reality outside of his imagination. In the real world he puts up the front of a man with a great deal of patience, but it is apparent to most people that he is a reservoir of thin paper holding a terrible back rage that burns like no acid that man could or would even have the motivation to produce. It holds up better than one may expect, but it still leads to accidental and often extremely difficult to predict explosions. These explosions may come in the form of something as basic as a dirty look or as terrible as a bone crushing kick with no fight to put it in proper context.
Despite what this rage may bring one to think, Voltaire is ultimately a kind person with the needs of his people always at the foremost in his list of priorities. This causes him to be less than social at times because he is afraid above all other things that he may become a danger to his people instead of a service to them. His current motivation is to find some way in which he can do so much good that it will balance out all of the bad caused by his various blow ups at people who never deserved them. That is what he is usually thinking about whenever he feels the need to seclude himself.
Character History:
Mary Hayashi and Samuel Hayashi, the parents of Voltaire Hayashi, were travelling merchants born in a minor village that has fallen into ghost town status. Aware of the state of their home, Mary Hayashi and Samuel Hayashi sat down together and discussed for several hours what they were going to do with their life to make sure that the family of three  that they were going to have in three months, instead of the couple of two that they were used to, could survive in any safe and steady way. After much discussion, weighing issues of familiarity against those of practicality, they decided to go to the nearest major city. The nearest major city to them just so happened to be the shinobi village of Sunagakure.
The two gathered only what they could carry with them because firmly believed, just really a thing that they felt deep in their heart of hearts, that they were going to have to travel to the city by foot and it was going to take them several days to a couple of weeks to arrive at their destination that way. The two, sadly, were very wrong. Had Mary not been pregnant then the group would definitely have been able to make it to the capital city of their nation in time, but that was a very foolish thing to have not factored into this oh so delicate equation. At first Samuel Hayashi found himself having to carry his wife on his back from time to time because he could not bear to see her in so much pain. Walking for days on swollen feet is synonymous with cruel and unusual punishment. The second issue was that they packed light on food intentionally so that they would have enough wares to sell when they finally got to Sunagakure. Samuel Hayashi decided to let Mary Hayashi have what they estimated to be around nine tenths of the food that they had packed. Later they would laugh about how two people in their trade could be such poor planners, but there was no laughing about anything but occasional states of delusion from the sun baking their starved minds.
Mary Hayashi passed out just before Sunagakure no Sato was in range for either of them to see it, and Samuel Hayashi immediately collapsed in tears, fearing that either she or the baby was not going to make it. He felt like he wasn't going to either when the thought crossed his mind that if one went the other would most likely die as well. He hugged her tightly and hung his head just over hers, as if his tears would hydrate her and save his lover and his offspring from the death that was quickly approaching the both of them. For all of his sobbing he could not hear the approach of a ninja, though of course, she was a ninja so he may not have heard her even if there were no other noises at all. They were found by a Chuunin who specialized entirely in medical ninjutsu at just the end of the fourth week: their several day journey had taken them a month and almost become a horrible as well as fatal failure. Not physically strong enough to drag the two grown adults, or even one for that matter, all the way back to the village, she opted to heal both of them right there.
All that the man, who she would later learn was named Samuel Hayashi, needed to recover was rest, water, and a hearty meal. All three were given to him the moment he arrived. Mary Hayashi had much more damage done to her body, and needed to spend a lengthy stay in the hospital. She was not charged and Samuel was allowed to sleep by her side and eat the food served in the hospital cafeteria every day free of charge until it was sure that his wife and child were both going to make it. The same Chuunin who had found them became Mary Hayashi's primary care giver until she had a clear bill of health.
That good news came after two months of terrible anticipation. With that bill of health came news that the baby growing inside of her was doing just as well as she was. Later that week, a baby boy was born and given a name. This baby boy was to be known to the world as Voltaire Hayashi.
Voltaire grew up in a loving, but far from stable home. His parents were gone so often to find new things and sell their new things to their various clientele around the country, that he was often left with his godmother. His godmother was the one woman that his parents would have trusted with the care of their child, and she was also the woman whom all three of them could thank for their lives.
She would walk with young Voltaire Hayashi while he went around looking for anything that sparkled or shimmered in the sand so that he could take it back to show his parents and maybe even help them financially by providing them with product. It was probably unhealthy that a child as young as six wanted to help pay the bills, but everybody who saw just thought that it was adorable. He even made a few interesting finds after it finally occurred to him to use a shovel or some tools instead of just digging his hands into sand so hot from the sun that it was a wonder it did not all just turn into glass. His past time was painful at first.
Four years later that Chuunin who rescued them those years ago and served as the part time legal guardian of Voltaire Hayashi was now the chief of medical staff in Sunagakure. Voltaire Hayashi still followed her around at work. He loved listening to her boss her workers around and was blown away by the fact that all of them actually listened to her. It may have been the trait of an only child, but he so adored to have control over his space. This led to him having very few friends, and those he did have were mostly just young sycophants. He started to surround himself with yes men from a shockingly young age. That was not the only thing about the hospital staff that blew him away. He became quickly enamoured with the abilities of ninjutsu.
His godmother waited until he turned twelve and got permission from his parents to do so, and then enrolled Voltaire in the ninja academy. He originally intended to practice medical ninjutsu so that he could help those in need and maybe even get to boss some people around if he did so well enough, but then something else was shown to him that would change his life forever. The moment that he saw Kugujutsu in a textbook he knew that it was something he had to be a part of, no matter what. He was going to be a master of puppets.
He would often come home covered in bruises because he would be beaten up, and rightfully so to be entirely frank, for trying to control the other children using chakra strings. Voltaire saw nothing wrong with this. Most of what he tried to make them do was leave the room. It wasn't like he was trying to make them do anything bad. He just wanted his privacy so that he could practice on other things. Due to his ability to string out chakra from his fingers after seeing it just once done in a book he was labeled as a prodigy and moved up to genin level ahead of his class. He was still, however, a lonely child with nobody to play with when it was all said and done, so his godmother saved up and bought him his very first puppet. It looked like a beetle and he couldn't help but to instantly love it. After just a week of training he had figured out every aspect of this little puppet, only an foot or so in diameter. The six legs had multiple joints, the wings would buzz in several layers, moving mouth pieces, and short antenna. Little more was more wonderful than watching the fake insect wafting around in the breeze.
He went through the Chuunin exams on mostly double crossing, barely legal tactics, and general underhandedness. He had no regrets. He continued to impress his higher ups through his skills and eagerness when it came to assassination. For Voltaire Hayashi, the road from Genin to Jounin was one paved entirely in the blood of his enemies, the enemies of the great nation of Wind. As a Chuunin he moved from beetles to a different sort of insect. Wasps were a wonderful expression of his serious anger problems. He got a huge kick out of seeing the iron stingers pierce the enemy's body. Seeing their gore after a good fight was a driving factor to pull him into the next fight. The guilt still tore him apart. because of how he acted as a Chuunin.
His behavior was equally deplorable as a Special Jounin at the age of eighteen. During this period of his life his wild blood lust was put to use with a tracking job. He wound up having a name for himself in this aspect because no rogue ninja he was ever sent after came back as anything but a ruined corpse. Sometimes special medical staff was needed just to identify the body of the victim. This caused a fear for him that caused many not to be fond of the idea of him getting a rank up, but when he brought back a few pieces of a feared Jounin who once terrorized the village it was viewed as necessary.
As a Jounin he was mainly kept to the confines of the village for fear of him going berserk and damaging the alliance between the other villages. It was known that no matter how angry he was, he had never been known to kill or even overly severely injure another member of his own village. Kept mostly within the walls of Sunagakure, Voltaire grew bored and took to a new hobby, medical ninjutsu. His god mother, now a much older woman, was ecstatic both that he wanted to learn from her and that he was interested in learning something less of a purely offensive purpose. He had great control over his chakra after all of those years of practicing with forming strings, and took quickly to this as well. He specialized in toxicology and worked in the hospital when he was bored. He saw as, in a sense, atoning for both the sins of those he had killed who could have been brought back alive and for the sins of how much he loved doing it. His next goal to put his ferocity to use would be put to use in an upcoming tournament. He knew that if word got out that he was the new Kazekage, then nobody would be willing to so much as look at Sunagakure funny.